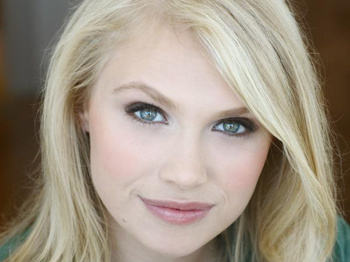 Charlotte Maltby
About the Show
Charlotte Maltby joins 'The Sound of Music' tour on January 3.
Climb every mountain, ford every stream, follow every rainbow, till you find your dream! Charlotte Matlby will take over the role of Maria Rainer in the national tour of Rodgers + Hammerstein's The Sound of Music. Maltby will begin performances in the Jack O'Brien-directed touring production on January 3, 2017, at Uihlein Hall in Milwaukee, WI.

Maltby's stage credits include Have You Met Miss Jones?, Starting Here, Starting Now, The Secret Garden and Hairspray. She's appeared on TV and film in Ithaca, AWOL, People People, The Last Five Years, Work It, Honey! and Aquarius.

On his new leading lady, who takes over the role from Kerstin Anderson, O'Brien said this, in a statement: "You often wonder if lightning ever strikes twice? Our original Maria in The Sound of Music, an undergraduate sophomore from Pace University, was just such an original—and as a truly youthful 'discovery' in her theatrical debut, she pretty much shattered both expectations and all previous molds. So when it came time for her departure, one wondered if the entire event might change into something very different. And then, Charlotte Maltby walked through the door. The daughter of celebrated writer and director, Richard Maltby Jr., she was, of course, theatrical royalty personified; but was I prepared for her poise, her naturalness, her timing, her elegance? No, I was not. Was I prepared for that voice—one of the richest and most powerful I believe I have ever heard in a theatre before? No, I most assuredly was not. And yet, there she stood—and the tears in my eyes as I heard the first notes of 'The Sound of Music' testified that we were in a small age of theatrical miracles: there was lightning once more, pure, and anything but simple. Our discovery now is your pleasure; we are blessed by not only the continuing gift of this 'sleeping beauty' of a musical, but more so by the refreshing talent that is somehow inevitably attracted to perform in it."

Maltby joins a cast that includes Ben Davis as Captain Georg von Trapp, Melody Betts as The Mother Abbess, Merwin Foard as Max Detweiler, Teri Hansen as Elsa Schraeder, Austin Colby as Rolf and Paige Silvester as Liesl. The von Trapp children will be played by Roy Gantz (Friedrich), Ashley Brooke (Louisa), Austin Levine (Kurt), Iris Davies (Brigitta), Kyla Carter (Marta) and Anika Lore Hatch (Gretl).

The Sound of Music features music by Richard Rodgers, lyrics by Oscar Hammerstein II, book by Howard Lindsay and Russel Crouse, suggested by The Trapp Family Singers by Maria Augusta Trapp. This new production is directed by Jack O'Brien, choreographed by Danny Mefford and music supervision by Andy Einhorn.

The Sound of Music enjoyed extraordinary success as the first live television production of a musical in over 50 years when The Sound of Music Live! aired on NBC in December, 2013; 2015 marked the 50th anniversary of the film version, which continues to be the most successful movie musical in history. The spirited, romantic and beloved musical story of Maria and the Von Trapp Family will once again thrill audiences with such songs as "My Favorite Things," "Do-Re-Mi," "Climb Ev'ry Mountain," "Edelweiss" and the title song.